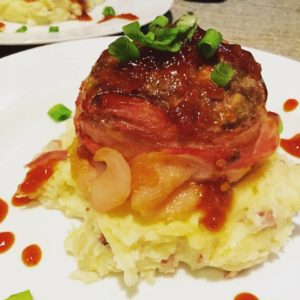 These individual serving Bacon wrapped Meatloaves are a guaranteed hit! Made with Tutu's Pantry Coconut Macadamia Nut Panko and Pineapple BBQ Sauce. The recipe makes 9 individual loaves, so you can freeze and save for later or make it for the family or dinner party.
Ingredients:
2 lbs lean ground beef
2 eggs
1 cup chopped green onions
1 cup Tutu's Pantry Pineapple BBQ sauce
3/4 cup milk
6 oz Tutu's Pantry Coconut Macadamia Nut Panko
1 cup shredded cheddar cheese
1 tsp Tutu's Pantry Spicy All Purpose Hawaiian Rub
9 uncured Bacon slices
Preheat oven to 375. In a large bowl, mix all ingredients above except Bacon. Shape meat mixture into patties (like burger size) and wrap each one with a slice of bacon. Bake all in a cookie sheet for 40 min at 375 (or freeze and save for another occasion). Serve with mashed potatoes or if you like local style, serve with mac salad and sticky rice. Enjoy!
Products you will need for this recipe: