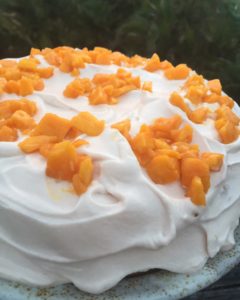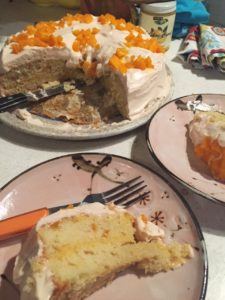 This Mango, Lilikoi and Guava Cake is the perfect Summer cake! Light, moist and juicy, with the fresh Maui flavor.
Ingredients:
1 cup Fresh or Frozen Mangos chopped in small pieces
1 jar Tutu's Pantry Lilikoi Curd
1 bottle Tutu's Pantry Guava Syrup
1 box Vanilla cake mix
1 cup Heavy whipping cream
Topping:
Whip heavy cream till it becomes thick and fluffy. Continue beating and slowly add Tutu's Pantry Guava Syrup.
Preheat the oven at 350. Grease a road cake pan. Prepare box cake mixture (I used the Betty Crocker brand). Add 1/2 cup of Mango pieces to batter. Bake for 30-35 minutes. Cool for 15-20 minutes. Cut cake in half, creating a top and bottom. Spread Tutu's Pantry Lilikoi Curd on layer one, carefully add the top piece, spread more Lilikoi Curd. Decorate Cake with The Guava cream topping and rest of Mango pieces.
Refrigerate for one hour or more to let the flavor soak in. Enjoy!