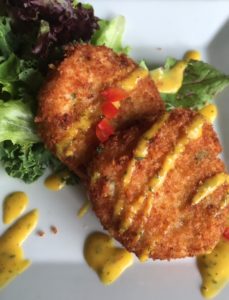 This is a fun twist on traditional crab cakes.
The Coconut and macadamia nut Panko crust adds a sweeter taste to this all time favorite appetizer. And the tangy Lilikoi sauce is perfect for it! Serve it by itself as an appetizer or over a hearty salad with lettuce, tomatoes, carrots, corn and finely chopped red onions and bell peppers.
Ingredients:
1 lb. jumbo lump crabmeat, fresh or pasteurized
1 large egg
1/4 cup mayonnaise
1-1/2 tsp. Maui Onion Garlic Mustard
1 tsp. Lavender Seasoning
1/4 tsp. Alaea Sea Salt fine
1 tsp. fresh lemon juice
1-1/4 cups Coconut Macadamia nut Panko
1 Tbs. chopped fresh flat-leaf cilantro
2 Tbs. unsalted butter
1 Tbs. Macadamia Nut Oil
Sauce:
1/2 cup Aunty Lilikoi Passion Fruit Juice
1 tbsp Red Alaea Salt
4 tbsp Mayo
1 tbsp Organic Honey
dash of black pepper
Drain the crabmeat, if necessary, and pick through it for shells. Put the crab in a medium mixing bowl and set aside.
In a small bowl, whisk the egg, mayonnaise, mustard,seasoning, lemon juice, and 1/4 tsp. salt. Scrape the mixture over the crab and mix gently until well combined. Gently break up the lumps with your fingers but do not overmix.
Sprinkle the Panko and cilantro over the mixture, and mix them in thoroughly but gently; try not to turn the mixture into a mash—it should still be somewhat loose. Cover with plastic wrap and refrigerate for 1 to 3 hours.
Shape the crab mixture into 8 cakes about 1 inch thick. In a 12-inch nonstick skillet, heat the butter with the macadamia nut oil over medium heat. When the butter is frothy, add the cakes to the pan (8 should fit comfortably). Cook until dark golden brown on the underside, about 4 minutes. Flip the cakes, reduce the heat to medium low, and continue cooking until the other side is well browned, 4 to 5 minutes. For the Sauce, combine all ingredients listed and mix well. Serve with Lilikoi Sauce on the side or drizzled on top.