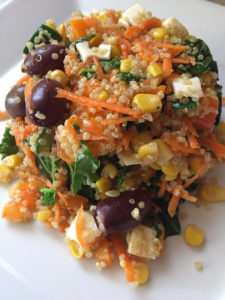 Hearty, crunchy and fresh is how to best describe it. This is a delicious Salad that can be served as a main dish.
Ingredients:
1 cup Quinoa
1 cup fresh Kale chopped in small pieces
1/2 shredded carrots
1/4 cup sweet corn
1/4 cup black olives
1/4 chopped green onions
1/2 cup feta cheese cut in small cubes (you can replace the cheese for almonds or pecans for a Vegan dish)
1/2 cup Tutu's Pantry Papaya Vinaigrette
2 tsp of Lavender Macadamia Nut Seasoning
I like to cook my quinoa in a rice cooker, is easy and faster than conventional stove top. If you don't have a rice cooker, use stove top and a medium size pan. Add 1 cup water to quinoa and two pinches of Lavender Macadamia nut seasoning. Cook until water has evaporated (usually cooks in 15 minutes). Let it cool. Mix the rest of the ingredients in a large bowl. Once quinoa has cooled down, mix it in to the bowl.
Dig in and enjoy!