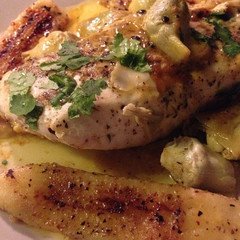 2 Halibut Fillets
2 tbs Lavender Macadamia Nut Seasoning
1/3 cup Artichoke hearts
1/4 cup fresh cilantro
1 ripe banana
1 pinch of Tutu's Pantry Smoked Salt and Seasoning
1 pinch of Hawaiian Organic Cinammon
2 tbs butter
2 tbs Aunty Lilikoi Passion Fruit Juice
Season Fish with Lavender Macadamia Nut Seasoning. In a skillet melt 1 tbs butter and mix Passion Fruit juice. Add 1 tea spoon of honey or sugar and set aside. Cut Banana in half and quickly sautee it with butter, add a pinch of Smoked Sea Salt and cinammon. Set aside. Leave cooking Fish for last. Sautee seasoned Fish in butter at Medium heat for 5 minutes. Plate it by adding sauce first to the plate, Fish on top, bananas to the side and add artichokes and cilantro as garnish. Serve with rice or mashed potatoes.