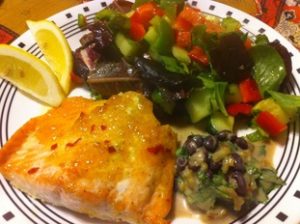 4 serving size Salmon fillets
1 jar Tutu's Pantry Spicy Pineapple Papaya Lilikoi Jam
1 tbs butter
Place Salmon fillets in a large Pirex, add 1/4 tbs of butter to each filet and glaze fillets with one tbs of Tutu's Pantry spicy Pineapple Papaya Lilikoi Jam. Cook salmon in the oven for 30 minutes at medium temperature (350 ).
Mixed Green Salad:
4 cups of Mixed Greens
1/2 cup chopped green bell peppers
1/2 cup chopped red bell peppers
1 large chopped tomato
1 large chopped cucumber
1 bottle Mango Vinaigrette
Toss Mixed greens, Tomatoes, Cucumbers and bell peppers with the Mango Vinaigrette.
Black Bean Salsa:
Black bean salad:
1 cup black beans
1/2 cup fresh cilantro
1/2 cup chopped green chili's
3 tbs Volcano spice Coconut Habanero hot sauce
In a medium bowl mix Black beans, cilantro, green chilies and Coconut Habanero Sauce.