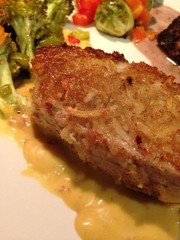 2 medium Ahi Steaks
1/2 cup Macadamia Nut Coconut Panko
3 tbs oil (coconut or olive)
1 pinch of fine Alaea Salt
1/3 cup Lilikoi Butter
1/3 cup heavy cream
Drizzle a little Oil on both sides of Ahi Steak. Spread the Macadamia Nut Coconut Panko on a dish. Place Ahi steak on Panko and pat it on all side. Heat oil in a skillet and when oil is hot, reduce heat to medium, place Panko dusted Ahi steak in skillet and count from 3-5 and flip. Repeat for each side. Counting will depend on how you prefer the Ahi, lightly seared or cooked medium well. Do not over cook. Otherwise Ahi will be dry.
Heat up Lilikoi Butter in a separate pan, wait for butter to melt. Bring heat to low and add the Heavy cream. You can use Coconut milk instead.
Serve with Veggies and Rice.