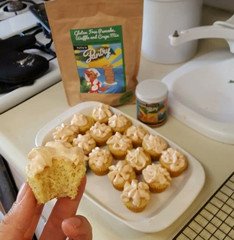 Cupcakes:
2 cups tutus pantry gluten free coconut waffle mix,
1/4 cup coconut oil,
2 eggs,
1/4 cup water,
2 tblsp Maui honey.
Mix well and bake at 350 for 7 to 10 minutes. (Makes 24 mini cupcakes)
Guava cream cheese frosting: using a stand or hand mixer combine 1/2 cup tutus pantry guava butter 1/4 cup cream cheese mix on high periodically scraping sides of the bowl for 5 to 10 minutes or until frosting is light and fluffy.Refrigerate until ready to frost cupcakes.
These were so delicious and easy! A perfect summer treat!