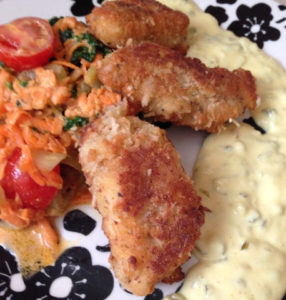 Ingredients:
2 Fresh Ono Filets (Wahoo)
1 egg
1 cup Coconut Macadamia Nut Panko
1 tsp All purpose spicy hawaiian rub
1/2 cup oil (canola, avocado or coconut)
Sauce:
1/2 cup Mayonnaise
1 tbsp Maui Onion Garlic Mustard
1 tbsp Relish
Directions
Cut Fish Filet in horizontal pieces or thick slices. In a bowl crack one egg and whisk till egg white and yolk are mixed well. Put Coconut Macadamia Nut Panko in a large plate. Get a large skillet ready with the oil. Prep an additional plate with a paper towel to place fish once fried and to absorb oil.
Batter Fish one by one by dipping and covering in egg wash, and dust it in panko, Make sure all sizes are covered with egg and panko. Set pieces in separate plate. Heat up oil in skillet for one minute in high. Place one battered fish on hot oil and make sure it sizzles, turn heat to medium and add all other battered fish. Fry for two to three minutes till golden brown and flip. Fry for one minute. Remove from frying pan and place on paper toweled plate.
For the sauce mix all tree ingredients in a bowl.
You can make sandwiches with the fish, wrap it with tortillas and add a little cilantro and salsa, or just enjoy it by itself dipping it in the yummy sauce.