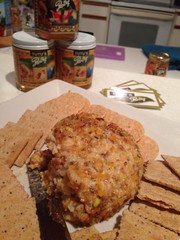 1 cup shredded Monterey Jack cheese
1 cup shredded sharp cheddar cheese
1/2 cup cream cheese
1/2 cup Tutu's Pantry Passion fruit Pepper Jelly
1 cup Ahualoa Coconut Curry Macadamia Nuts
In a bowl mix all three cheeses and Pepper Jelly till all ingredients are well blended. Shape it into a ball.
Put macadamia nuts in a zip lock bag, and on a flat surface crush it with a flat pan till you get it all into small pieces. Place crushed macadamia nuts on a plate, roll cheese ball in macadamia nuts maintaining the ball shape. Serve with crosttini, crackers, bread or lavosh.
*Notes: Use any of the other flavors of Macadamia Nuts and combine with any Tutu's Pantry Jams, Jellies or chutney.